Where it all started
Bloom & Bale originated from a deep yearning for quality linen that doesn't bear the stamp of the outdated, mass-produced products that line store shelves. Our products are 100% organic cotton and fair-trade approved and to top it off, it gets delivered right to your doorstep in the most heart-warming fashion. Bloom and Bale's no-nonsense approach to quality, affordable sheets makes it a whole lot easier to rest your head on your pillows at night.

After covering the whole of South Africa in search of perfect, ethically crafted, snuggle worthy sheets, the makers of Bloom and Bale researched the future of sustainable farming and production practices and decided to jump the gun and make their own dream sheets.

"We wanted our sheets to be the best sheets we have ever slept in, and we managed to get just that. Now we want to share this amazing quality product with everyone", says Bloom and Bale Co-Founder, Mare-Alet Nel.

"We live in a world where climate change is steadily threatening the future of our planet and although the problem screams for immediate action, our daily lives still bare the habits that make it worse, whether it is in the food that we eat or the sheets that we buy in stores," says Nel.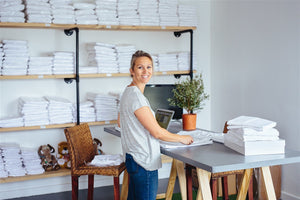 Sustainable Roots
Recognising the need for sustainably made sheets, Bloom and Bale took it upon them to make a positive impact on the lives of 100's of farmers and factory workers. From the bloom of the cotton seed to where it arrives in a beautiful bale, all production processes adhere to the global organic textile standard. For them, sustainability is the highest standard. In fact, "all the cool people are doing it".
Bloom and Bale linen is not only sustainably made, but the 100% organic cotton makes for quality sheets that will certainly make it harder for you to leave your bed in the morning. Saving you the drama of real-life shopping, the Bloom and Bale package gets delivered straight to your door "with love". In this savvy age where things are as accessible as touching a button, it is impossible not to get your hands on this amazing product. Choosing to buy organic has never been this easy and luxurious.